This list of  VST effects is ideal for mixing and mastering . Includes: algorithmic reverbs, saturators, amplifiers, limiter samplers, filters and equalizers.
 Eos 2 – Audio Damage 

EOS 2 – is a high-quality algorithmic reverb. It has standard controls for reverb, including modulation and depth, attack, propagation and total control over the equalizer. Low CPU consumption compared to other algorithmic reverb plugins.
---
---
 MixPack2 –

PSP Audioware

MixPack2 is a collection of five add-ons in VST and RTAS format for PC and Mac OSX designed to improve the quality of digital recordings. The set includes: – PSP MixBass2 – PSP MixSaturator2 – PSP MixTreble2 – PSP MixPressor2 – PSP MixGate2 . As the name suggests, these plugins are meant to be used during mixing, but the quality of the sound processing algorithms allows them to be used in the master.
---
http://www.pspaudioware.com/plugins/tools_and_meters/psp_mixsync2/
---
 N2O – PSP Audioware

 N2O is a multi-effect that offers flexibility and freedom in the construction of sound. High quality modules can be changed in any order, guaranteeing an endless musical journey. Created by the same concept as the PSP Nitro, but with more advanced tools. This plugin´s engine has been rewritten to improve sound quality and optimize for modern processors.
---
http://www.pspaudioware.com/plugins/multimode_effects/psp_n2o/
---
Kombinat Tri – Audio Damage

Audio Damage Kombinat is a multiband distortion plugin with an equalizer for highs, lows, and mids. It uses three distortion engines, each with several algorithms: fuzz, saturation, warp, bitz and ring.  It is a clear choice for anyone doing electronic music, but it can also serve as an effect for the guitar.
---
---
Sound Philta XL – Vengeance Sound

Philta XL is a high quality VST plugin , made by Vengeance Sound , with a filter cut of up to 96 db. This VST includes 2 filters of high quality (12db, 24db, 96db or 48dB), variable width of the filter resonance , band pass and notch mode (phaser),  2 synchronized LFO tempo (for bass and high) with 5 LFO shapes ,   2 envelopes (for bass and high) with a variable frequency source,  saturation / distortion of the filter (pre or post filter), Rate Reducer / bitcrusher (pre or post filter) (+ LFO and Env),  High quality limiter in the output (limiter taken from the Multiband Compressor). Perfect plugin for any studio producer.
---
https://www.vengeance-sound.com/plugins.php?sub=Vengeance%20Producer%20Suite%20Philta%20XL
---
Wow 2 – Sugar Bytes

Wow 2 is a powerfull and flexible filter plugin created by Sugar Bytes. With 21 filter types , LFO, Env.-Follower , Step Seq & Wobble , Distortion with 3 overdrives, non aliasing and warm sound , this plugin is easy to use and quite pleasing to look at. Wow 2 also includes 9 human vocal sounds in vowel filter and dynamic oversampling across the board.

---
---
 EQuality – DMG Audio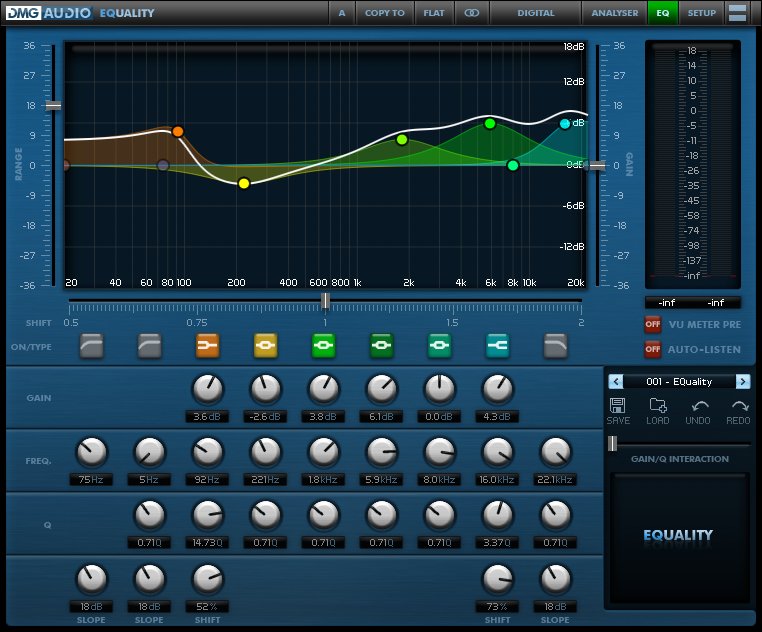 DMG Audio´s  EQuality is the high quality equalizer developed by a designer who worked for a long time on Pro-Audio and made equalizers for Focusrite and Sonalksis. Optimized for low CPU usage. Includes high resolution spectrometer and 2 fully parametric filters (high and low-pass).
---
https://www.dmgaudio.com/products_equality.php
---
Timeless 2 – FabFilter

FabFilter Timeless is a high quality delay effect plugin. This VST includes effects such as echo, flanger, chorus and phaser. Here are some of the features:
2 delays lines
More than 300 presets
Interactive filters
Infinite modulation options
Visual modulation of the signal source
---
https://www.fabfilter.com/products/timeless-2-stereo-tape-delay-plug-in
---
MB-5 Dynamix – Blue Cat Audio

Blue Cat Audio MB-5 Dynamix v1.2 can be used as a multiband compressor, limiter, gate, expander or all combined at the same time, anywhere in the spectrum. Combined with advanced stereo functions, including "mid / lateral" processing and independent channel activation, it gives you full control over signal dynamics.
---
https://www.bluecataudio.com/Products/Product_MB5Dynamix/
---
Uhbik – U-he

Uhbik is a set of nine high quality standard effects. Includes GrainDad, Flanger, Phaser, Tremolo & Pan, Frequency Shifter, Ambience & Reverb, Multitap Delay, Equalizer, Runciter , all of them easy to use and intuitive but quite powerful.
---
https://u-he.com/products/uhbik/
---
Sonic Sweet – BBE

Sonic Sweet is a 3 plugins in 1 created by BBE Sound Inc.
Includes :
D82 Sonic Maximizer: Announced as a magic black box that restores the natural clarity and depth of sound of any instrument.
H82 Harmonic Maximizer uses a multiband power / harmonic generator to add emphasis to frequencies.
L82 Loudness Maximizer is a simple but effective mastering / dynamic limiter.
---
http://www.bbesound.com/products/sonic-maximizers/sonic-sweet.aspx
---
Cytomic The Glue
Glue is based on  the British classic big console compressor from the 80s, with some additional features. The VSTi plugin used the same high quality algorithms with its original analog interface, but is optimized for use today.
It includes an ultra-fast attack: up to 0.001 ms, and a button that slows down compression to provide an incredibly natural attack and limit the amount of compression applied.
---
---
Turnado – Sugar Bytes

Sugarbytes Turnado is a revolutionary effects processor, specially designed for high quality audio processing in real time.  With 24 Effects in 8 Slots , modulation via 2 LFOs and Step Sequencer Hi-Tech: Modulation, Tranformation, Loops & DJ
The program can be used independently or in VST, RTAS and AAX formats.
---
https://sugar-bytes.de/turnado
---
FET Compressor – Softube

An extremely versatile compressor, modeled after the most famous analog compressor. The added features, such as continuous ratio control, parallel compression, detector and lookahead filters,  super fast attack and interesing sound, makes the FET the ideal and versatile compressor that can add power to the voice or compress the battery.
---
---
L2 Ultramaximizer – Waves

L2 Ultramaximizer is one of the best limiters you can find. This plugins gives us a combination of look-ahead brickwall peak limiting , level maximization  and ultra high resolution . Simple but powerful tool for your productions.
---
https://www.waves.com/plugins/l2-ultramaximizer?gclid=CjwKCAjwhbHlBRAMEiwAoDA347fOo_9l_cdKz9MRS9IxunwePTlUrS8cvQ24ChwXPcfagdPr4swa3hoCXzsQAvD_BwE
---
Native Instruments The Mouth
The Mouth is a virtual instrument capable of generating impressive melodies and harmonies of absolutely any audio material. Sing or load a drum loop, and the instrument will begin to work as a synthesizer, a bass, a vocoder or an effect similar to a talkbox. The program interface offers you all the possibilities to generate the results you are looking for.
---
https://www.native-instruments.com/es/products/komplete/effects/the-mouth/
---
Dada Life Sausage Fattener
Sausage Fattener is a high quality virtual maximizer  created by Dada Life. This plugin has only knobs – Fatness and Color but with these  simple parameters, you can create a wide variety of sounds. This plugin is used by DJ / producers such as Tiesto, Kaskade, Diplo, Luke Laidback, Chuckie, Martin Solveig, Hardwell, Angger Dimas, Frank E, Zedd, Lazy Rich, Dimitri Vegas and Like Mike, Marcus Schossow, John Dahlb.
---
https://tailorednoise-downloads.com/SausageFattenerPurchase.php
---
Pro-Q3 – FabFilter

The FabFilter company is known for its high quality plugins, as well as numerous victories in contests and prizes for the best filters in the market. With 24 equalizer bands, FabFilter Pro-Q3 is an incredible and intuitive tool for mixing and mastering , probably the best out there.
---
https://www.fabfilter.com/products/pro-q-3-equalizer-plug-in
---
VintageWarmer 2 – PSP Audioware
 VintageWarmer 2 is high quality digital simulator that works as analog style compressor / limiter. The add-on combines rich and warm analog processing with an open user interface, and comes with a full library of presets.
---
http://www.pspaudioware.com/plugins/dynamic_processors/psp_vintagewarmer2/
---
SSL 4000 Collection – Waves

The accessories of the SSL 4000 collection, licensed by Solid State Logic, are based on the mixers of the SSL 4000 series. The set includes three plugins: SSL G-Master Buss Compressor, SSL E-Channel and SSL G-Equalizer. A powerful plugin for any mix or master.
---
https://www.waves.com/bundles/ssl-4000-collection?gclid=CjwKCAjwhbHlBRAMEiwAoDA34wxIlMhsS025p4L2f8-fSqgE67xJs7WqLMpw7mSAMrGoh6K2kHPV7BoC6swQAvD_BwE
---
Ozone 5 – iZotope

Ozone is a mastering plugin that contains eight modules: maximizer, equalizer, multiband dynamics, multiband stereo, equalizer, multiband harmonic exciter, reverb and blur. In the fifth version of the add-on, 6 more components were added and the existing functions were extended.
---
https://www.izotope.com/en/company/press-room/press-releases/2011/izotope-ships-ozone-5-and-ozone-5-advanced.html
---